With the housing market preparing to pick up this spring and summer, it is important for residential buyers and sellers to understand their rights and obligations regarding radon disclosures.
The Minnesota Department of Health ("MDH") maintains that 2 in 5 homes in the State have dangerous levels of radon. MDH warns that properties in 78% of Minnesota counties have high average radon levels. (4 picocuries per liter (pCi/L) or above)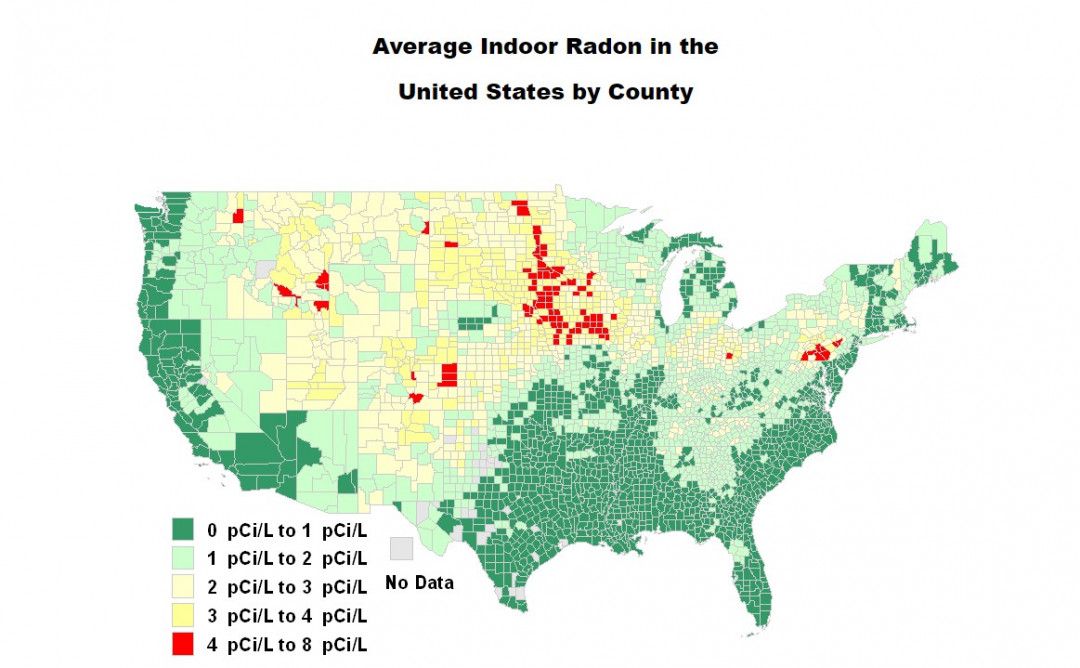 NEW MDH MAP SHOWS RADON LEVELS ACROSS THE STATE
AVERAGE INDOOR RADON IN THE UNITED STATES BY COUNTY / SOURCE: LAWRENCE BERKLEY NATIONAL LABORATORY
The Minnesota Radon Awareness Act, Minn. Stat. § 144.496, came into effect in 2014 and requires residential-property sellers to disclose to buyers any knowledge that the seller has of radon concentrations in the dwelling. This includes:

Whether the property has been tested for radon;
The most current records and reports regarding radon concentrations in the dwelling;
A description of any radon concentrations, mitigation, or remediation;
Information regarding any radon mitigation system that has been installed in the dwelling; and
A copy of the Minnesota Department of Health publication entitled "Radon in Real Estate Transactions."
Furthermore, the seller must also provide the following statutory warning statement:
Radon Warning Statement
"The Minnesota Department of Health strongly recommends that ALL homebuyers have an indoor radon test performed prior to purchase or taking occupancy, and recommends having the radon levels mitigated if elevated radon concentrations are found. Elevated radon concentrations can easily be reduced by a qualified, certified, or licensed, if applicable, radon mitigator.
Every buyer of any interest in residential real property is notified that the property may present exposure to dangerous levels of indoor radon gas that may place the occupants at risk of developing radon-induced lung cancer. Radon, a Class A human carcinogen, is the leading cause of lung cancer in nonsmokers and the second leading cause overall. The seller of any interest in residential real property is required to provide the buyer with any information on radon test results of the dwelling."
Disclosures
Disclosures are necessary for both new constructions and existing homes. Furthermore, they must be provided in writing before the purchase agreement is signed. However, the Act applies only to transfers of residential real property. The Act also lists 13 types of transfers for which disclosures are not required, including gratuitous transfers, transfers to heirs or devisees of a descendant, and transfers between spouses resulting from a decree of marriage dissolution. A seller's failure to adequately provide the required disclosures will not automatically invalidate the transfer. However, the Act makes sellers liable for non-disclosure and allows buyers to sue within two years of the transfer.
Notably, the Act does not mandate radon testing or mitigation. However, because high radon concentrations can cause health problems, it is prudent measure to test for radon so that any problems can be addressed before sale. If dangerous radon concentrations are discovered, mitigation measures can then be taken. Mitigation typically call for venting of areas under the building slab. Finally, the Minnesota Department of Health recommends that mitigation steps be taken if the annual average level of radon is above 4.0 pCi/L. Radon mitigation can cost several thousand dollars, depending on the size of the home and extent of the problem. Additionally, a quality radon mitigation system is often able to reduce the annual average radon level to below 2.0 pCi/L.
Please see the disclaimer at the bottom of this page that relates to limitations on this blog and to legal advice. Joseph Maternowski is an attorney in private practice who is viewed by clients as a trusted legal adviser. Mr. Maternowski advises clients on compliance matters and in commercial and residential real estate transactions. Thanks to associate Joseph Reutiman for his assistance in preparing this blog. Finally, for information on limiting liability in real estate transactions, responding to radon and other environmental concerns please contact:
Hessian & McKasy P.A.
T: (612) 746-5754
jmaternowski@hessianmckasy.com
www.hessianmckasy.com
www.enviroattorney.net
Please Note Disclaimer Found at Top Right of Our Website, Thank you