We are quickly approaching the August 30, 2018 effective date for the new regulations under California's Proposition 65. These new regulations include specific warnings for certain types of products and industries as well as new warning requirements for Internet sales.
The list of substances regulated by Proposition 65 currently contains over 900 chemicals used in a wide variety of consumer products. These include: electronic devices, alcoholic beverages, diesel engines, boats, recreational vehicles, ceramics, plumbing fixtures, lighting products, children's toys, thermometers, eyeglasses, furniture, gloves, stationery, cosmetics and toiletries. Certain places or locations in California may require the posting of Proposition 65 warnings. These locations include: amusement parks, enclosed parking facilities, apartment buildings, dental offices and hotels and other lodging establishments. All products manufactured on or after August 30th will need to satisfy the new requirements. In addition, locations subject to these warnings will need to comply as well.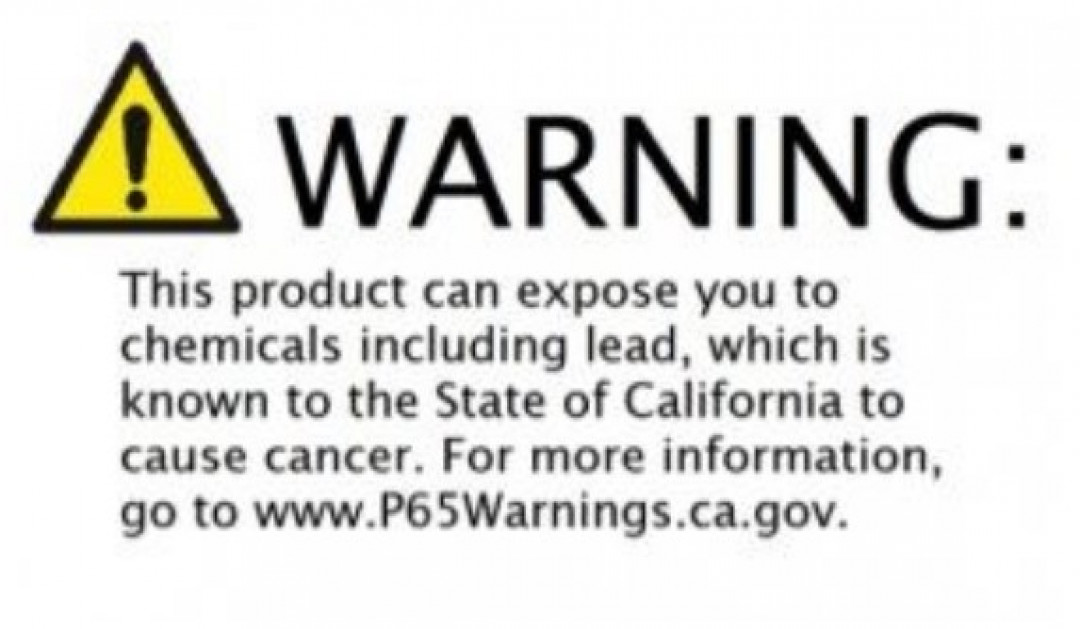 What is the effect of Proposition 65 on businesses?
Proposition 65 has received much criticism from businesses, commentators and others. The changes in notifications were adopted in part to address complaints related to so called "overwarning" of dangers and potential harm to the public. For more information as to the broad impact of Proposition 65 see:
NEWSWEEK: HERE'S WHY EVERYTHING GIVES YOU CANCER IN CALIFORNIA
Businesses that fail to comply with Proposition 65 notification requirements may faces penalties of $2,500 per day and a demand for attorneys fees from the person or organization that files a notice of noncompliance.
Although the regulations affect California businesses and consumers, any business shipping products or goods to California or whose components are part of an item sold in California may be subject to California Proposition 65 and its notification requirements.
One non-profit, who is lobbying for amendments to or repeal of Proposition 65, used publicly available settlement data to estimate the financial impact of Proposition 65 on businesses headquartered in states other than California between 2010 and 2017. During this period businesses paid a total of $182.1 million.
2018 PROPOSITION 65 STATE IMPACT REPORT
Three quarters of the Proposition 65 settlements were with businesses headquartered in states other than California. Five states, New York, New Jersey, Illinois, Florida and Texas, accounted for $57.8 million paid in violation of the California law. Minnesota based businesses paid $2.9 million for Prop 65 settlements (penalties, attorneys fees and related costs) during this period. These amounts do not include amounts recovered in Proposition 65 lawsuits.
How are businesses responding to the new Proposition 65 warning requirements?
Many businesses are updating their existing Proposition 65 notifications. A number of manufacturers are requesting detailed product information including chemical components from their suppliers and revising warning notices based on responses that are received. Proposition 65 compliance is burdensome. Some companies are unaware of the law's application to their products. Other businesses have heard of Proposition 65 and have decided to accept the risk they will be avoid a notice of noncompliance. History shows this can be a perilous approach.
Failing to comply with Proposition 65's requirements can result in costly penalties. Plaintiffs' have been quick to sue business for Proposition 65 noncompliance. In 2017, the California Attorney General reported a total of 688 settlements for violations of Proposition 65. These settlements totaled more than $25 million, of which nearly $19.5 million was paid to plaintiffs as costs and attorneys' fees. For a list of Proposition 65 settlements in recent years please see:
After the August 30, 2018 deadline, plaintiffs and their counsel will likely be on the lookout for business that fail to take the new requirements into account. Now is the last chance for businesses in the California market to evaluate their products and operations to ensure compliance with the new Proposition 65 regulations. For further background on Proposition 65 and compliance with its requirements please see our recent blog.
In cases where a responsible party cannot be identified for a groundwater plume or for soil vapor impacts that affect residences, the EPA or state authorities may use government funds to tests for soil vapors beneath buildings and, as may be appropriate, install sub-slab mitigation systems. EPA and State authorities reserve the right to pursue cost recovery against any party who is determined to be responsible for the release.
At Hessian & McKasy our attorneys assists clients whose property is impacted by trichloroethylene releases to soil, groundwater or soil vapor. We help clients limit their liability when purchasing or leasing property that has been impacted by TCE releases. We assist clients in responding to government Requests for Information ("RFIs"). Also, we help clients investigate or remediate TCE releases on property they own or on others property. We work closely with our clients, in house environmental staff and consultants to address technical issues related to trichloroethylene releases. When appropriate, we institute cost recovery actions seeking recovery for investigation and remediation response costs from responsible parties. In these cases where it is permitted under the law we seek recovery of our attorneys fees.
Attorney Joseph Maternowski has assisted clients in assessing and limiting their exposure to Proposition 65 liability. Mr. Maternowski is currently working with clients in Minnesota and other states as they determine whether they are subject to Proposition 65 and if notifications and warnings are required on their products. Mr. Maternowski has helped clients respond to and defend Proposition 65 claims. He has also established effective compliance programs to avoid liability.
Please see the disclaimer at the bottom of this page relating to limitations on this blog and legal advice. Joseph Maternowski is a Minnesota attorney in private practice who practices in the areas of environmental, administrative and real estate law. He advises clients on compliance matters as well as on commercial and residential real estate transaction and on litigation. Joe assists multiple clients on sites that have been impacted by releases of PFAS, PCE and TCE. Thanks to associate Joseph Reutiman for his assistance in preparing this update. Finally, for additional information please contact:
Hessian & McKasy P.A.
T: (612) 746-5754
jmaternowski@hessianmckasy.com
www.hessianmckasy.com
www.enviroattorney.net
Please Note Disclaimer Found at Top Right of Our Website, Thank you